Extinction Rebellion and the Ritualization of Climate Grief: Performing Species Loss and Putting Climate Justice on the Agenda
By Marion Grau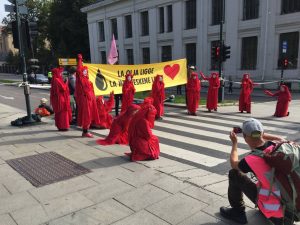 Leading up to the Norwegian general election on 13 September 2021, Extinction Rebellion Norway and Sweden engaged in a week-long festival of 'Nordic Rebellion.' It included a variety of actions, some of them involving arrests, others engagement with the public and decision makers. Media reports generally focus on the more disruptive aspects of Extinction Rebellion's (XR in the following) global actions: Blockades, sit-ins, public nudity, and the attending arrests.
This blog entry focuses on some of the less disruptive but visually compelling and dramatic forms of XR actions. As public rituals they invite passers-by into emotional reactions. Activists and passers-by participate and observe rituals such as grief marches and funerals to mark species extinction, performed displays of grief, compassion, and love.
XR actions can be seen as a ritual complex with complex layers somewhere between planned and improvisation. Such actions resemble "a ritual . . . contained by a cosmos and located in one or more geography and ambient ecology," embedded in "a system surrounded by and suffused with its ambient societies and constituent cultures. (242,55)." One might argue that XR actions provide—not unlike a walking pilgrimage—an example of a ritual revolt against and the strictures of capitalist, consumerist entrapments (27-28). In addition, XR actions aim to facilitate transformative encounters, that is they are intended as "liberating rites" that seek to change public discourse and governmental action. In particular, I want to focus attention on the visually striking Red Rebel Brigade, funeral marches for species extinction, and a climate mass/prayer walk combination.
XR actions can disrupt the rituals of 'ordinary time' and limit the range of sensations, thereby reducing stress and demands on the self, involving forms of ascetic practice, such as blockages and sit-ins reminiscent of ancient Stilite saints and the US civil rights movement. Such rituals work deliberatively with "emotions and sensory pageantry" to make many of the rituals memorable, and to raise awareness through moving public perception and opinion (645). XR uses "kinetic rituals," (2) strategically engaging in open-air movement and strategically disseminating the video footage on social media. These rituals cite and engage in a number of familiar liturgical acts but are generally not authorized by clergy or religious leaders, though religious leaders and activists may participate in them. XR funeral/grief marches invoke a trans-species community, pointing to a system of relations that display permeable boundaries in terms of time, species, and place, with banners reading "If they die, we die."
Like pilgrimages, an XR rebellion, or a Fridays for Future school strike facilitates a "temporary disruption of social order," offer "ritual inversions" (2)—similar to carnival and festivals. Certainly, what can be said about tourists, that "the journey is a success when they return as transformed beings" (2), or, in the case of XR, when new publics encounter the message of the necessity for action and transformation.
Red Rebel Brigade—Silent Pantomimes of Planetary Love and Care
Red Rebels are a group of activists that move silently and slowly together in movements that are visually striking.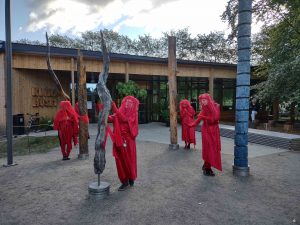 The idea is that the red color of their costumes represents the lifeblood of all creation, and that they engage in motions of care, love, and grief with each other and those they encounter. They may walk, be in emotional support of other XR activists that may be engaged in a blockade, or just be observed walking up and down major thoroughfares. Their striking visual performance engages casual onlookers in ways that call forth curiosity as well as grief, especially after being presented with a flyer explaining provided by action support rebels. While blockades may make some angry and frustrated, the primary reaction to Red Rebels tends to be wonder, fascination, and emotional responses of care. It is a form of action that onlookers and activists alike see as particularly affective, attractive, and making room for people to sense loss and grief. Given that for many people in denial emotional awakening to grief and loss is a key motivating factor for climate action, Red Rebels are one effective way to create ritual spaces for grief and lament to manifest.
Grief March for Species Extinction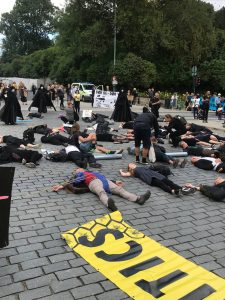 The Nordic Rebellion featured a grief march that took its beginning from the Museum of Natural History located in Oslo's Botanical Garden and snaked through the old town, over a bridge blocked off for motorized traffic by XR rebels, and proceeded onwards to various government departments crucial for action against further species extinction. After stopping for actions and short speeches and appeals at various places, it proceeded up Carl Johan, the main shopping mile up towards the National Theater where activists staged a die-in in the middle of the intersection.
The grief march was led by a figure in a white alba with a veil and a cape with the names of 25 species threatened with extinction. Around 100–200 other activists had dressed up as funeral guests and followed the white figure through the streets of Oslo, to the sound of a solitary, mourning drumbeat. Activists and onlookers both reported this experience of communal grieving as one of the most memorable and powerful actions during the week. Many XR activists themselves habitually experience grief, and the common actions allow them to find community with other grievers, engage onlookers and decision makers, and thus turn their grief into hopeful action. After the die-in, a New Orleans style jazz band that had welcomed the funeral march that played over the 'dead' also presided over what became a spontaneous 'resurrection' of species. A number of activists later on described the experience of 'dying' and 'rising' to the sounds of a jazz funeral as a sublime experience as they slowly stood up and started to dance.
Climate Mass and Prayer Walk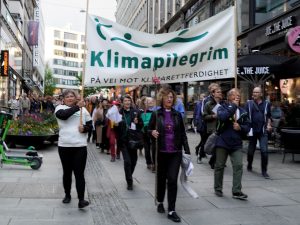 Church activists from the Theological Climate Action conducted a climate mass followed by a prayer walk to places of political decision making that allowed many XR activists to rest and be fed during a long week of actions. Many, especially rebels from other locations, were grateful for the church's hospitality and experienced a convergence of the contemporary public rituals of activists and the ancient rituals, music, and language of the church, which was able to hold grief, love, and care for creation in remarkable ways. One XR activist was able to give witness of his motivation for civil disobedience during the service. This intersection of XR and the Oslo Cathedral was used by some politicians to create controversy around XR's use of civil disobedience and church advocacy for climate action. Attempts at a public disinformation campaign met activists in the media. Despite or perhaps because of public discussions around the use of civil disobedience as part of its actions, XR Norway has helped shift public opinion. XR actions during the Nordic Rebellion, together with the work of parties and environmental groups pushing for swift and decisive climate action, were likely instrumental in shifting public and political discourse before the general election, as well as in the aftermath of the election, to consider measures that previously were almost entirely absent from the political and public discourse. XR activists are part of a chorus of actors calling for a more democratic system that curbs the disproportionate power corporate actors have on the global economy, and thus also governments that continue to ignore the vast majority of planetary life forms to the benefit of a very few politically powerful ones. Unlike some of the other actors, XR uses public rituals of grief and invoke spiritual and religious elements to help name and embrace the pain of love that becomes manifest in such rituals. Thus expression of grief forms an essential part of non-violent action and the ritual performance of trans-species community.
#
Marion Grau is Professor of Constructive Theology at MF Norwegian School of Theology, Religion, and Society in Oslo, Norway. Her teaching interests are in constructive theology and her current research projects include a theology of climate change, petroleum addiction, and energy transitions in the Northern hemisphere. She is the author of Pilgrimage, Landscape, and Identity: Reconstructing Sacred Geographies in Norway (2021), Rethinking Theological Hermeneutics: Hermes, Trickster, Fool (Palgrave MacMillan, 2014); Rethinking Mission in the Postcolony: Salvation, Society, and Subversion (T&T Clark/Continuum, 2011); and Of Divine Economy: Refinancing Redemption (T&T Clark/Continuum, 2004).
---
Counterpoint blogs may be reprinted with the following acknowledgement: "This article was published by Counterpoint Navigating Knowledge on 20 October 2021."
The views and opinions expressed on this website, in its publications, and in comments made in response to the site and publications are those of the author(s) and do not necessarily reflect the views and opinions of Counterpoint: Navigating Knowledge, its founders, its staff, or any agent or institution affiliated with it, nor those of the institution(s) with which the author is affiliated. Counterpoint exists to promote vigorous debate within and across knowledge systems and therefore publishes a wide variety of views and opinions in the interests of open conversation and dialogue.
Photo credit: © Marion Grau, 2021