Counterpoint is a not-for-profit organization, run by an Executive Committee that consists of two Directors and a Blog Editor.
The activities of Counterpoint are supported by an Advisory Board with internationally known experts in fields that reflect the mission of Counterpoint. Members of the Advisory Board are appointed for a term of 5 years.
Executive Committee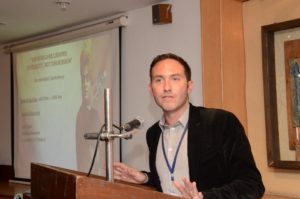 Whitney A. Bauman, PhD, Co-Director
Professor of Religious Studies, Florida International University, USA, with a specialization on religion and science, and religion and nature. Homepage
"To develop a planetary community, we need to include as many human and nonhuman perspectives as possible, in order to lay viable paths toward our shared future."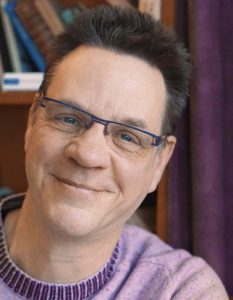 Kocku von Stuckrad, PhD, Co-Director
Professor of Religious Studies at the University of Groningen, the Netherlands, with a specialization on the the diversity of knowledge systems, esoteric and mystical traditions in European and North American history, the history of astrology, nature-based spiritualities, as well as on religion and secularity. Homepage
(photo © Jens Heisterkamp/Info3)
"In the concert of knowledge every note counts. We need to amplify the unheard harmonies and listen to the subdued songs of the planet."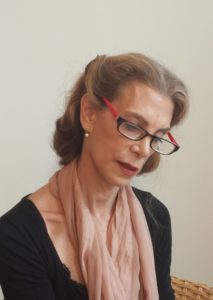 Marcia Pally, EdD., Blog Editor

Prof. Marcia Pally teaches at New York University and is a regular guest professor at the Theology Faculty of Humboldt University, Berlin. Her research interests include religion, culture, and politics as well as the intersection of language and culture. Most recent books: White Evangelicals and Right-wing Populism: How Did We Get Here?;  From This Broken Hill I Sing to You: God, Sex, and Politics in the Work of Leonard Cohen; Commonwealth and Covenant: Economics, Politics, and Theologies of Relationality ;  and Mimesis and Sacrifice. Homepage
Advisory Board
Greg Johnson is Professor in the Department of Religious Studies at the University of California, Santa Barbara, where he is also Director of the Walter H. Capps Center for the Study of Ethics, Religion, and Public Life. Johnson's research focuses on the intersection of law and religion in contexts of Indigenous struggles over burial protection, repatriation, and sacred land.
Jay Johnston FAHA is Professor of Religion within the School of Humanities at the University of Sydney. A cross-disciplinary specialist her work demonstrates the importance of religious studies scholarship for the fields of heritage studies, wildlife conservation and environmental humanities, art history, Norse and Celtic studies. She works at the interface of religion/ arts/philosophy examining visual and material culture with a particular focus on the interrelationship between ethics and aesthetics, animal–human relations, concepts of materiality, embodiment, and epistemology.
Amanda M. Nichols is a Postdoctoral Research Fellow in the Environmental Studies Program at University of California, Santa Barbara working with Professor Lisa Sideris to launch a new research program in Nature and Ethics. Dr. Nichols earned her Ph.D. in Religion and Nature in 2021 from University of Florida where she worked under the supervision of Professor Bron Taylor. Her primary research, which falls at the intersections of environmental history and religious and gender studies, focuses on the roles and contributions of women in the North American anti-nuclear movement. Using ethnographic research methods, her work contributes to the growing corpus of literature in intersectional environmentalism and religious studies that illuminates the contributions of women to environment-related, or environment-focused, social movements. In addition to her research, Dr. Nichols serves as the Managing Editor of Journal for the Study of Religion, Nature and Culture, Treasurer for the International Society for the Study of Religion, Nature, and Culture, an editor for Journal of Posthumanism, a board member of the Feminist Theory and Religious Reflection Unit at the American Academy of Religion, and Production Editor for Equinox Publishing.
Lisa H. Sideris is a professor of Environmental Studies at the University of California, Santa Barbara. Her research focuses on the ethical significance of natural processes, and the way in which "environmental" values are captured or obscured by narratives and perspectives from both religion and the sciences. She is especially interested in the mythic, religious, and ethical dimensions of the so-called Anthropocene and attendant technologies such as geoengineering and de-extinction. She is author of Environmental Ethics, Ecological Theology, and Natural Selection (Columbia University Press, 2003) and Consecrating Science: Wonder, Knowledge, and the Natural World (University of California Press, 2017). She has written extensively on environmental pioneer Rachel Carson and is co-editor of an interdisciplinary collection of essays on her life and work (Rachel Carson: Legacy and Challenge, SUNY 2008).  She serves as President of the International Society for the Study of Religion, Nature, and Culture.
Lisa Stenmark is Emeritus Faculty at San Jose State University in California, where she taught Humanities and Comparative Religious Studies.  She has written numerous articles on the relationship between religion and science, including Religion, Science and Democracy: A Disputational Friendship, and is co-editor, with Whitney Bauman, of the series Religion and Science as a Critical Discourse. She has an MDiv/MA from Pacific Lutheran Theological Seminary/ the Graduate Theological Union, and a Ph.D. in Religious Studies from Vanderbilt University.  She is a Fulbright Scholar (VNU, USSH Ho Chi Minh City) and currently resides in Wyoming.
Renny Thomas is Assistant Professor of Sociology and Social Anthropology at the Department of Humanities and Social Sciences, Indian Institute of Science Education and Research (IISER) Bhopal, Madhya Pradesh, India. He has been a Charles Wallace Fellow in Social Anthropology at Queen's University Belfast, Northern Ireland, UK (2017–2018), and a Visiting Fellow at the Department of Cultural Anthropology and Cultural History at Friedrich-Schiller University-Jena, Germany (2022–2023). He is an elected fellow of the International Society For Science and Religion (ISSR), Cambridge, UK. He has published extensively on science and religion, social justice and science, and rituals and technologies. He is the author of Science and Religion in India: Beyond Disenchantment (London: Routledge, 2021), and co-editor of Mapping Scientific Method: Disciplinary Narrations (London: Routledge, 2022).
Carol Wayne White is Professor of Philosophy of Religion at Bucknell University, and her books include Poststructuralism, Feminism, and Religion: Triangulating Positions (2002); The Legacy of Anne Conway (1631–1670): Reverberations from a Mystical Naturalism (2009); and Black Lives and Sacred Humanity: Toward an African American Religious Naturalism (2016), which won a Choice Award for Outstanding Academic Titles. White has published numerous essays in philosophy of religion and on religious naturalism; her work in philosophy and critical religious thought has also appeared in Zygon: The Journal of Religion and Science, The American Journal of Theology and Philosophy, Philosophia Africana, and Religion & Public Life.