The Art Network: Artists For Plants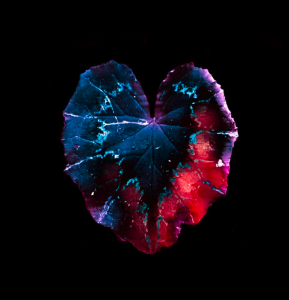 "Love" by Nina Maaley, France (posted on 23 April 2020)
As you are all aware of, a pandemic is currently growing throughout the whole world. As this virus spreads, it also disseminates fear, isolation and suffering. These troubled times made the artists realize the preciousness of our bonds and how much we have to take care of the ones we love. Because we should share support and love instead of fear and mistrust, I created this love series as a means to express your thoughts towards the ones you are far away from.
Nina Maalej is a French photographer artist specialized in vegetal photography. She wants to share the benefits that reconnection with nature brings. Through photography, Nina Maalej emphasizes the graphical wealth of plants in order to make us sensitive to them.
How could a moss, such as the Star moss, survive on sand?
Why do some flowers, such as the Sprawling needle sunrose, bloom only for a few hours?
How can a species communicate with a completely different species, such as the Sea Medick plant with the Sinorhizobium meliloti bacterium?
And, what if we try to investigate all of these questions through art?
THE ART NETWORK was born to stimulate artists to look for the mysteries in plants life, to find the sacred beauty of our friends, the clorophyllians, to show a possible model, for us humans, for thriving in life.
Art as culture, and plants as nature, might therefore find a perfect meeting point, create an act of social transgression, and help each other to find the sacred side of matter, moving somewhere between art and nature.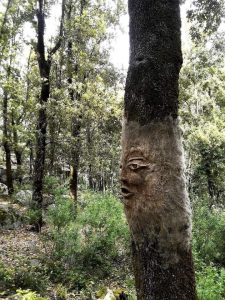 From the "Animate what is animated" collection by Stefania Lai, Italy
Downed trees. Endless logging. Tree-lined boulevards razed to make way for a parking lot, trees killed so as not to change a foot of sidewalk. Trees are peaceful armies of good and generous beings supporting the sky. Spare them, let them live with us. But don't you see their eyes that love us?
In these hemp works the artist wanted to give a face to the trees because as human beings we are so self-centered that we recognize only what is similar to us. To find eyes is to find a mirror. We are aware of life looking at us, we can no longer pretend that we are not.
As Kocku von Stuckrad wrote recently on this blog: "If we seriously queer the nature–culture divide, we will realize that our world consists of an endless entanglement of things that can be put into either of the two categories, depending on the context and the questions we ask. It means that we should engage in 'acts of social transgression.'"
A social transgression in which art could help humans "to recover the lost innocence of a world in which plants, animals, and objects were fellow citizens." (Philippe Descola, Beyond Nature and Culture)
And that's how the idea of this project was born.
"THE ART NETWORK" is calling for international artworks and creative projects dedicated to the world of plants, launched by the group #artistsforplants.
We are asking artists from any Country to show, in their artworks, the wonder and the beauty of our chaleidoscopic world. Our hope is that if many of us discover and fall enchanted by such beauty, we may be able to preserve it.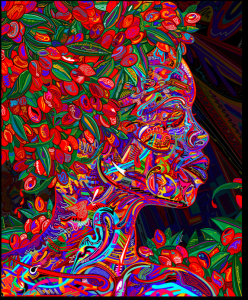 "Zyruma," by @arawanuaria, from Colombia (Posted on 26 May 2021)
'Zyruma' is a tribute to the lost lives through violence in Colombia because of the illegal drug trade and its impact on vulnerable communities. Coca is a sacred plant that became the cause of infinite bloodshed in this country, and it is a symbol of the systematic underlying issues of corruption and violence in Colombia. It's a telling example of how humans urgently need to change their relationship with plants and towards our natural world, if we want this planet to become a sustainable, fair, and peaceful place for all of us.
THE ART NETWORK is especially embracing two endangered places, where the selected artworks will be showcased: Alberoni – Venice (Italy) and Chocò – Medellin (Colombia). We want to show how much beauty and biodiversity exists in those endangered places. Giving value to the beauty of biodiversity through art might help us to rediscover the importance and unicity of our ecosystems. Furthermore, we hope it will influence politicians to reconsider two destructive projects planned: a bath establishment in Alberoni and an industrial port in Chocò.
This is the second major call by #artistsforplants, a group that was born in a spontaneous, free and voluntary way, from the desire of some artists who participated in the artistic residency realized by the Brazilian organization "LABVERDE," in the Amazon rainforest, in August 2019. Later, in 2020, other persons, working in the field of communication, joined the group. On the Earth Day 2020, #artistsforplants produced the video "concerto for artistsforplants," in which some of the best Italian classical music soloists suggested the intimate connection between music and plants. The video has also been presented at the 77th International Film Festival of Venice.
The video was part of a call in which artists from every continent shared their artworks dedicated to the knowledge, empathy, and protection of these extraordinary clorophyllian beings. Artists from all over the world participated with paintings, poems, music, mosaics, videos, and other mediums. All of the artworks are published on the Facebook page, @artistsforplants.
With this special call for 2021, #artistsforplants is inviting artists to become activists as well, sharing their work in order to protect a specific place. The organizers invite works and proposals that highlight the need for the protection of green life. Selected works and projects will be exhibited and/or used:
1- to create an exhibition for two endangered areas located in Chocò (Colombia) and/or in Alberoni – Lido di Venezia (Italy). "The Art Network" will represent a kind of temporary protective, symbolic and real action for the two special green areas and will be an example for other protective "art networks" all over the planet;
2 – to compose a digital gallery visible on the #artistsforplants website and social media. The digital gallery will be a sensitive and meaningful virtual art network to create and spread the attention and the need for protection of the two green areas in Chocò, Colombia, and Lido di Venezia – Alberoni, Italy.
3- #artistforplants would like to extend this appeal to all creative people and artists in the world, inviting them to create their own "ART NETWORK" wherever they wish, with a focus on a green area to be saved and to send us photos/videos or other forms of art about it. We will give visibility to all the contributing "art networks" in the world.
Regarding this third point, a concert by Emotion for Change will be performed on 2 July in the Dolomites, near Belluno (Italy), to preserve the pristine beauty of that mountain area.
As Valerio Scarpa, mountain guide and contact person for POD (Protect our Dolomites), tells us:
The movement of consciousness that animates this event, as the others of The Art Network, stems from the firm desire to offer a conscious alternative to the institutional project with which the Veneto Region, and in particular its governor, is proposing in the name of a "questionable" sustainable mobility; through this mobile concept they would like to pass off as "green" projects aimed at the mere connection of cableways to areas that are now close to and separated by rare remnants of Dolomite nature.

The Dolomites are a world heritage site because of their natural and landscape value, not because of the extensive network of cableways that have compromised this recognition. Today and more and more in the future, the value of the Dolomites lies and will lie in their uniqueness, which depends on the naturalness of the places remaining as intact as possible! For this reason we are convinced supporters of a new concept: "No more lifts," quite different from the short-sighted "No lifts." We believe in fact that a remaking of the current installations in operation is desirable, while the construction of new cable infrastructure should be avoided, especially in the few beautiful peaks still resisting human technology.
#
Sara Michieletto is a musician and a violinist who is deeply passionate about plants. Recently, she has been conducting her artistic research towards the unraveling of the language that unites music and biosphere.
---
The social profiles of #artistsforplants are available to report proposals from around the world. Those who wish to join can send their proposal with the required information to: [email protected].
For more information on the call and updates visit: https://www.artistsforplants.com/general-2.
About the special plants of Alberoni, mentioned at the beginning of this article: https://www.artistsforplants.com/the-five-plants-alberoni.
Email: [email protected]
Facebook @artistsforplants
Twitter @artistsforplan1
Instagram # artists_for_plants
---
Counterpoint blogs may be reprinted with the following acknowledgement: "This article was published by Counterpoint Navigating Knowledge on 15 June 2021."
The views and opinions expressed on this website, in its publications, and in comments made in response to the site and publications are those of the author(s) and do not necessarily reflect the views and opinions of Counterpoint: Navigating Knowledge, its founders, its staff, or any agent or institution affiliated with it, nor those of the institution(s) with which the author is affiliated. Counterpoint exists to promote vigorous debate within and across knowledge systems and therefore publishes a wide variety of views and opinions in the interests of open conversation and dialogue.
Image credits: © with the artists, used with permission.