Mantra: These are Trauma Days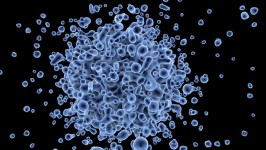 More than two months into working and parenting from home during the coronavirus pandemic, I am grateful to the teachers who had shown me, before the new coronavirus, that the apocalypse had come and gone and that many have adapted and learned to survive. In the U.S. context, the middle passage taken by West African slave ships and the colonial devastation of Native and Indigenous cultures were already apocalyptic.
As a white and white-collar person, I could too easily have ignored this apocalyptic past, and in many ways I'm insulated from the present pandemic apocalypse, too. Tucked away in my small midwestern town, a white and tenured academic finishing her semester with no "essential workers" in the family and ample resources to feed and educate the kids, we're in a little bubble here. The bubble is not only that of a relatively privileged, self-quarantined family but a bubble formed by race and class privilege. In this way, my corona-bubble mirrors the bubble racism and classism usually construct for me. White privilege in America is forever masking apocalypse from my radar, like a profanity bleeped out of my newscast.
Even amid the new coronavirus, as long as no one is sick in my immediate circle, it would be possible for me to hear only fake signals that everything is okay, that there is no trauma here. The same conditions that make it impossible for me to imagine that anyone would pursue and shoot me while I jog, as Ahmaud Arbery was shot last February in Georgia, or that police would enter my home uninvited, let alone kill me while I sleep, as Breonna Taylor was killed in Kentucky in March, make it hard for me to hold on to the trauma of pandemic.
But thanks to the women of color to whom I was listening, I had begun to adjust my sense of our shared condition to the post-apocalyptic. I was able to greet this strange new time of coronavirus with the awareness that the human community is full of survivors of traumatic apocalypse and that together we hold shared knowledge about how to survive, even when evidence points to the contrary.
From my house, virus-free so far, I've been attending to the wisdom of these teachers, following the How to Survive the End of the World podcast, reading the poetry of Alexis Pauline Gumbs, and listening to webinars on what  Octavia Tried to Tell Us, about what the science fiction of Octavia Butler teaches us for these times.
These teachers, who foreground the experiences of black women in America, help me to know that every step I take in pandemic is a step during trauma, just as every step I took before this pandemic was a step in a society founded on trauma. They help me remember not to pretend otherwise, even when my insulated household would make that possible.
So it is that I say to myself: "I am leading a faculty meeting during widespread trauma. I am sweeping the floor during trauma. I am arguing with my children about the laundry during a life-changing trauma in their young lives. I am planting a garden during trauma. I am grading papers during trauma. I am blogging during trauma."
And you are reading this blog during trauma. As normal as the act of reading online may seem, it is today all in the wider context of trauma. This is not to minimize the more acute trauma others right now are experiencing on ventilators or in grieving so intensely that blog reading is off the table. Recognizing a shared state of societal trauma doesn't take away our recognition that there are different textures and intensities of trauma. People are suffering in different ways with drastically different impacts.
Yet in various way, these are trauma days for all. So I repeat it like a mantra at once macabre and hopeful: "These are trauma days." I say it for Ahmaud Arbery and Breonna Taylor and for everyone on a ventilator with Covid-19 and every essential worker without protective gear. I say it because it is true.
Then I lean into to the insights of those who can teach me how to breathe in trauma. Gumbs, for example, has taught me that survival teachers are sometimes unexpected characters. She found one in the whales that swam beside the slave ships and taught everyone in the hold to breathe through their heads when the New World would seek to suffocate them (for this tremendous insight, listen to Gumbs at minutes 50-53 in this episode). I lean into the training resources of Generative Somatics, an organization that offers programs and trainings to empower individuals and organizations to heal from the impacts of trauma and create more just communities.
Chronic denial of trauma fits the rules of white privilege but attends neither to the pandemic nor the racism plaguing America. As a step toward communal healing, I cling to my mantra that recalls both sorts of devastation so that I can join the project of feeling our way to a better future. Reading the words of Staci K. Haines of Generative Somatics while I sweep and grade and pray, I begin to wonder: "What economic and political structures do we need to have masses of people embody cooperation, interdependence, and equity? This means societal systems that hold your well-being as mine, just as your demise is mine, and the well-being of the earth's living systems is the same destiny as our own."
There are ways to breathe after apocalypse, after the suffocating holds of the slave ships and after today's environmental racism, which flares so strongly in the pandemic and shoves people of color into new holds of coronavirus hotspots.  Breathing together after apocalypse will require popping white supremacist bubbles so we can all see our societal trauma for what it is.
We will need to feel trauma together if we are to be well together.
#
Rev. Dr. Anna Mercedes is Associate Professor of Theology and Gender Studies at the College of Saint Benedict and Saint John's University and is ordained in the Evangelical Lutheran Church in America.  She is the author of Power For: Feminism and Christ's Self-Giving
---
Counterpoint blogs may be reprinted with the following acknowledgement: "This article was published by Counterpoint Navigating Knowledge on 20 May 2020."
The views and opinions expressed on this website, in its publications, and in comments made in response to the site and publications are those of the author(s) and do not necessarily reflect the views and opinions of Counterpoint: Navigating Knowledge, its founders, its staff, or any agent or institution affiliated with it, nor those of the institution(s) with which the author is affiliated. Counterpoint exists to promote vigorous debate within and across knowledge systems and therefore publishes a wide variety of views and opinions in the interests of open conversation and dialogue.