COVID-19 and Environmental Racism in Louisiana's "Cancer Alley"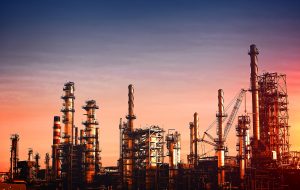 The first time I saw Highway Gothic, a 2017 installation by artists Ellen Gallagher and Edgar Cleijne, I was struck by the use of color. Consisting of two films, a soundtrack, and a series of cyanotype banners printed on 70mm film, the large-scale installation is an overwhelming, immersive blue. With depictions of sea, river, and swamp, the installation encourages viewers to think about water and their relationship to it. Seeing it, I was reminded of the words of controversial American naturalist and ornithologist William Beebe, who, in a 1931 essay, wrote of the deep ocean as "a solid, blue-black world, one which seemed born of a single vibration—blue, blue, forever and forever blue."
Highway Gothic—whose title refers to a typeface used for road signage—investigates the massive ecological, economic, cultural, and social changes that the construction of the I-10 Highway brought to New Orleans and the Atchafalaya basin. It was always an installation about crisis and violence, persistence and resilience. But reflecting on it in the present pandemic encouraged me to think about how COVID-19 plays out specifically in Louisiana.
The installation reveals how the construction of the I-10 effected an utter disregard for African-American and ecological life. It also shows how black Louisianans resisted and persisted. Though Highway Gothic debuted in New Orleans (during Prospect4) two years before COVID-19 brought the city to a standstill, it speaks in strange, unexpected ways to aspects of the current crisis. Perhaps most significantly, it helps us to see that "crisis" for some people is not a temporary "time of intense difficulty," as many of us think of the coronavirus crisis. It is a more or less persistent (if shifting) state of affairs.
One of the Highway Gothic films is shot around Claiborne Avenue overpass which, built in 1969, cuts through the once-buzzing Claiborne Avenue in Tremé. New York-based city planner Robert Moses initially planned for the highway to run through New Orleans' French Quarter. After protests, he shifted the project to Tremé, one of the city's oldest black neighborhoods. The construction of the overpass—severely but unsuccessfully protested by residents—displaced black-owned businesses, cleared hundreds of oak trees, and demolished individual properties. Its construction forever changed the area.
In one of Highway Gothic's films, rain trickles down a new set of oak trees, now drawn on the concrete walls that support the overpass. The shot poetically gestures towards the relation between ecological and racialized violence, the simultaneous disregard for black life and the natural environment.
This relation plays out again today, with deadly consequences, in what is known as "Cancer Alley." When you take the I-10 from New Orleans towards the Atchafalaya basin, you will find, on your left, Louisiana's "petrochemical corridor." Better known as "Cancer Alley," it is an 85-mile stretch of parishes, towns, and over 150 petrochemical processing plants and solid waste dumps along the Mississippi River.
The people who live here, predominantly earning low income and of African American descent, live in the persistent fog of toxic pollution. They insist that more people suffer from cancer and other diseases and illnesses there than elsewhere in the US. It has proven difficult to definitively link cancer rates with environmental exposure. However, a 2015 EPA study concluded that the air in St. John the Baptist Parish showed extremely high concentrations of cancer-causing chemicals. A 2019 study that surveyed residents of one of the towns in this parish, Reserve, showed, in turn, that 10.5% had received a cancer diagnosis in their lifetime, which is far above the 7% one would expect of a population made up of people of the same race, sex, and age. In response, those who live in "Cancer Alley" advocate for racial and environmental justice through organizations they have formed, such as the Women of Cancer Alley, the Coalition Against Death Alley, or RISE St. James.
Yet today, they must also grapple with the effects of the coronavirus. As reported in The Guardian on April 7, St. John the Baptist Parish also had one of the highest COVID-19 death rates of any U.S. county, with 58 deaths and over 500 confirmed infections in a population of 43,000. A recent Harvard study of hundreds of U.S. counties confirmed the link between air pollution and a higher rate of COVID-19 deaths. African Americans in poor areas often face higher pollution rates.
In Louisiana overall, black people make up only thirty-three percent of the population but almost seventy-one percent of COVID-19 deaths. By late March, New Orleans had become a COVID-19 hotspot fifteen years after Hurricane Katrina ravaged the city, killing almost 2,000 people and leaving a million homeless.
Like the current corona crisis, Katrina, too, should be understood as a disaster both natural and human-made. The infrastructure that should have protected the city from incoming water had been neglected for decades. The government failed to adequately respond once the waters came. It was a disaster that exacerbated and revealed persistent racism and demonstrated that a "sudden" crisis is, for some, a variation on what was already there.
When the first reports of the disproportionate number of African Americans dying of coronavirus emerged, journalists listed differences in health. Black people are more likely to develop type 2 diabetes and suffer higher rates of high blood pressure than their white counterparts. But recent reports offer a more comprehensive account. Black Americans are more vulnerable because of persistent structural racism.
The discrepancy between black and white Americans in morbidity and mortality is the outcome of racist and racialized policy not only in health care but also in education, housing, transportation, nutrition, and employment. These policies affirm and reinforce the notion that the well-being of white people is what matters while leaving racialized others by the wayside.
Highway Gothic testifies to the persistent neglect of Louisiana's black citizens and the intertwined nature of ecological and racialized violence. Yet zooming in on the new drawn trees also shows how residents resisted in the wake of such violence.
For Beebe, the ocean—ostensibly dark but a reflector of light—was a space of wonder and possibility. Surely, Gallagher and Cleijne's installation cannot mitigate the destructive realities of anti-black white supremacy. However, the blueness of Highway Gothic not only lays bare the relation between ecological destruction and racialized violence. In its poetic depictions of the trees on the overpass and swamp ecologies, it also helps imagine alternate modes of relating to nature and "otherwise" ways of living. It is here that the installation is most powerful.
#
Justine Bakker completed the PhD program of Department of Religion at Rice University. She successfully defended her PhD dissertation in April 2020. Her dissertation engages the work of Ellen Gallagher, M. NourbeSe Philip and Fred D'Aguiar to interrogate the relationship between and categories of "the human" and "religion."
---
Counterpoint blogs may be reprinted with the following acknowledgement: "This article was published by Counterpoint Navigating Knowledge on 13 May 2020."
The views and opinions expressed on this website, in its publications, and in comments made in response to the site and publications are those of the author(s) and do not necessarily reflect the views and opinions of Counterpoint: Navigating Knowledge, its founders, its staff, or any agent or institution affiliated with it, nor those of the institution(s) with which the author is affiliated. Counterpoint exists to promote vigorous debate within and across knowledge systems and therefore publishes a wide variety of views and opinions in the interests of open conversation and dialogue.