Why Be Virtuous?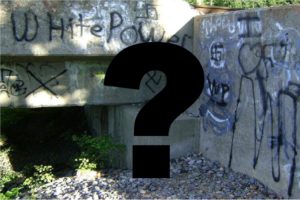 In the final days of October, more than a dozen pipe bombs were sent by a political fanatic to members of the opposing political party in the U.S.; two African-Americans were shot and killed at a grocery store simply, it seems, because they were black; 11 men and women were massacred in a synagogue by a gunman who blames the Jews for the ongoing migration from Central America.
These deadly incidents put faces on what is to me a very troubling trend in the number of hate crimes in the U.S., an increase of 12% for the largest US cities. It would seem that much of the country is caught up in a rising tide of intolerance of all that appears foreign or different. Old tendencies toward tribalism and antagonism against outsiders, often to the point of violence, seem to be reawaking in even in one of the world's wealthiest countries.
I expect that many besides myself are also troubled by this trend. But here is a question: Why should we be tolerant of others? In other words, Why not be a neo-Nazi or a Knight of the Ku Klux Klan? Why not try to exterminate those we don't like if it gives our lives meaning or purpose or pleasure or if we think it solves a social problem? Why shouldn't life (and politics) be thoroughly Darwinian — survival of the fittest? Or perhaps a sporting contest where the winner gets the trophy and the loser gets nothing?
Questions like these are difficult. They press us into reexamining the bases for our ethics and values and of what it means to be a human being.
Reality's Fugue: Reconciling Worldviews in Philosophy, Religion, and Science (Penn State University Press, 2017) is the product of such a reexamination, one that dates at least as far back as my graduate school years. I received my doctorate in a large religion department, and one of the advantages of learning philosophy in such an environment is that we learned not only Western but also Asian philosophy. One thing that quickly became clear was that, if we were to understand these different worldviews, we had to bring to our academic efforts a tolerance for philosophical views that were different from our own. If we were to avoid intellectual bias, as far as possible we needed to be agnostic in these matters, approach research in a neutral, dispassionate fashion as best we could, and find the validity in all these different perspectives.
But we ran into a problem. What were we to do with worldviews like those of Hitler or Stalin or Pol Pot? Surely there was a difference between "good" and "bad" worldviews, but how were we to decide? What should be our criteria when any criteria seemed to be just ways of supporting one view over another?
Which brings me back to the question I posed earlier: why isn't any approach to life as good as any other if we find purpose or joy or some other value in it?
One place that might provide some fairly consistent answers is the teachings of various world religions. While they have very different ideas about life's goals and how to achieve them, they tend to agree on the virtues expected of those wishing to achieve these goals. Almost universally, religious scriptures teach compassion for others and making the interests of others our own interests. Regardless of humanity's dreadful record of following this teaching, this "Golden Rule" appears in various forms in all major world religions.
Nevertheless, the pervasiveness of such teachings is not in itself a reason why we should adopt such values — why we should make the interests of others our own interests. For such a reason, we might look to Asian religions such as Hinduism and Buddhism, which associate such virtues of character with enlightenment and, hence, fulfillment. Or we might look to Western monotheism where such virtues are associated with closeness to God and, again, fulfillment. But why should we believe that reality includes a God or a heaven or nirvana? What is "God," anyway, and why be close to him/her/it? What is "enlightenment" or "fulfillment"? And why should we trust religious rationales for virtuous behavior when religious traditions don't even agree on the nature of reality? Buddhists, for example, don't believe in an overarching creator God while the Western monotheisms do. Nor does Buddhism hold that we are each, in our true nature, an enduring person or "soul."
These competing views of reality undermine the idea that we may at some foundational level agree about the ultimate nature of things. They leave us trapped in a moral relativism where our values are anchored in differing worldviews with none better than any other. Any moral teaching seems suspect with roots more likely in the exercise of social control than any grand notion of reality and human nature. With the philosophical underpinnings for virtuous behavior cut away, we're left with only the pragmatics of behavior — what's useful to us personally. The heart is cut out of the Golden Rule, which now becomes "Do unto others as best serves ourselves." There is no reason not to be intolerant of others if intolerance serves some purpose in one's own life.
Reality's Fugue avoids this moral relativism not through a synthesis of competing worldviews but rather by fleshing out a puzzle about the nature of our universe that has vexed philosophers for millennia and has fractured our views of reality into different metaphysical camps. When this puzzle is better explained, different views of reality continue to be fundamentally different but they now can be seen as complementing each other rather than merely competing. They can be seen as different strategies for understanding and coping with a reality that is fundamentally beyond capture by any one strategy alone.
As suggested by the book's title, these differences in worldviews can be understood as a kind of fugue — "a musical composition expressed through many voices," as the book puts it in the preface. "Some of these voices harmonize; some play against each other; over time, allegiances change. And that which excites us, enchants us, challenges us, and gives meaning to these many voices is what is achieved in their interplay, the music that comes into being in the sound they make together."
#
F. Samuel Brainard is an independent scholar of Asian and Western religions and philosophy. Before that, he taught at Temple and Rutgers Universities. His work has been published in the Journal of the American Academy of Religion as well as in his prior book, Reality and Mystical Experience (Penn State University Press, 2000). Reality's Fugue: Reconciling Worldviews in Philosophy, Religion, and Scienceis his first book for both general and academic audiences.
---
This Counterpoint blog may be reprinted with the following acknowledgement: "This article was published by Counterpoint Navigating Knowledge on 7 Nov. 2018."
The views and opinions expressed on this website, in its publications, and in comments made in response to the site and publications are those of the author(s) and do not necessarily reflect the views and opinions of Counterpoint: Navigating Knowledge, its founders, its staff, or any agent or institution affiliated with it, nor those of the institution(s) with which the author is affiliated. Counterpoint exists to promote vigorous debate within and across knowledge systems and therefore publishes a wide variety of views and opinions in the interests of open conversation and dialogue.