Teaching Through Sirens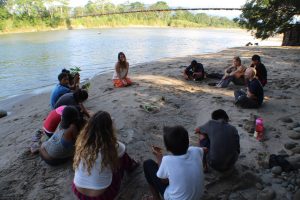 There seems to be a general sentiment of burn out at the liberal arts college where I teach in the American Midwest. When the Chronicle for Higher Education published an essay on the widespread lack of engagement among students in American college campuses right now, we breathed a sigh of relief. We felt so seen!
When I ask students for a word for how they are doing as we start class, "exhausted" and "overwhelmed" have long been the chronic chorus. Faculty and staff on other campuses echo these same sentiments. After two years of alarm over the pandemic, it's hard for anyone to be engaged in the classroom. That much is agreed upon.
What seems less often noted are the other alarms that are constantly sounding. Here in Minnesota, this week marked the one-year anniversary of the police killing of Daunte Wright, a 20-year-old black man shot by police during a traffic stop in Brooklyn Center, Minn. I remember students texting me to apologize for their lack of focus in class the morning after his death because they had been Wright's high school classmates. I remember students missing class to join the protests against Wright's death. I remember those who missed class because their military reserve units were called in to control the protests. I looked at the empty seats in the classroom, a deceptively quiet country classroom, and thought of where my students were that day. In my head, I heard the alarms of systemic racism, of police violence against Black and brown persons, and of militarization.
Last week I was haunted by the image of a young Ukrainian boy attending his classes remotely from refugee housing in a Romanian monastery, as shared by National Public Radio. The article explained that students were attending their classes from multiple countries, some as far away as Canada. Teaching remotely from Ukraine through the internet, the teacher had been given quick training in calming techniques for when the sirens or other emergencies arose during class time. But with her students scattered in many locations and therefore not hearing the same sirens, she stopped pausing class when her local sirens sounded. She learned to teach right through those alarms.
Teaching directly in the path of war is a uniquely horrific experience that I can't really imagine. And yet, reading about that one Ukrainian teacher raised my sensitivity to the sirens metaphorically sounding in my own classrooms. While we're two years into the pandemic alarms, we're many years into the traumas of modern racism and modern war. With these alarms sounding daily, it is also hard to be engaged in the classroom though, in the American university, this has received less attention than the pandemic and its public health protocols, which seem—perhaps falsely—closer to us.
My country classroom may seem deceptively silent against theses alarms, with the Ukraine distant and even Minneapolis, with its rallies demanding justice for Daunte Wright and George Floyd, an hour's drive away. But then I look out the window at the lake where the Anishinaabe native people had been living when German monks opened their monastery and school here. I think of the abuses of Native American children in American boarding schools that are now being explored at my university with the hope of healing between local tribal members and university researchers. The sirens sound on this land, right here.
Sometime in 2020 I was teaching college classes from home when the town's practice tornado sirens sounded. I gathered up my startled younger children, both learning from home, and got us to the basement, where my teen was trying to concentrate on her remote-learning high school class, located at a school located outside the area of the practice alarm. "Did you hear about the lockdown?" she asked me. "Which one?" I wondered, thinking about the pandemic conditions that had us all trying to learn from home that day. She explained that the college campus near her school was in lockdown while police chased a person who had fled after being pulled over on the highway nearby. Though her school was online, some of her classmates were residential students at the school and remained on campus while learning remotely. They too were experiencing the police lockdown.
Taking cover from the tornado alarm in our town, my teen watched unbelievingly at the commotion on her classmates' screens as the police, pursuing the suspect, ran directly down the hall of the boarding school residence.
My teen's classmate kept trying to focus on class, as did my teen. As did many of us: we keep teaching on stolen land through the toxic, green skies of climate disaster, through countless deaths from disease and war, through police violence, gun violence, and racist targeting.
We end another academic year teaching through sirens. It seems critical that we both stay in the classroom—showing the tenacity of our willingness to stay in connection—and that we keep hearing the sirens,  attending closely to the chronic violence and pain of the places in which we come together in the hopes of learning a better future.
#
Anna Mercedes is Professor of Theology at the College of Saint Benedict and Saint John's University in central Minnesota, USA. She is an ordained pastor in the Evangelical Lutheran Church in America. She is co-director of the Becoming Community grant funded by the Mellon Foundation, and director of a project grant on the distortions of white privilege on theological pedagogy funded by the Wabash Center. She is a member of the Christ Seminar with Westar Institute and the author of Power For: Feminism and Christ's Self-Giving and Interrupting a Gendered, Violent Church.
---
Counterpoint blogs may be reprinted with the following acknowledgement: "This article was published by Counterpoint Navigating Knowledge on 20 April 2022."
The views and opinions expressed on this website, in its publications, and in comments made in response to the site and publications are those of the author(s) and do not necessarily reflect the views and opinions of Counterpoint: Navigating Knowledge, its founders, its staff, or any agent or institution affiliated with it, nor those of the institution(s) with which the author is affiliated. Counterpoint exists to promote vigorous debate within and across knowledge systems and therefore publishes a wide variety of views and opinions in the interests of open conversation and dialogue.
Photo credit: © The Pachaysana Institute 2020