Storytelling for Social and Planetary Change – A Pachaysana / Counterpoint Webinar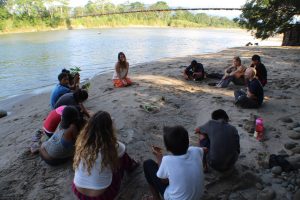 This series of workshops was co-sponsored by The Pachaysana Institute, Counterpoint: Navigating Knowledge, The Wolfsonian Public Humanities Lab at Florida International University, the Religious Studies Department at Florida International University, as well as the Department of English at Florida International University.
Storytelling is essential to what it means to be human. The process of knowing involves storytelling, and our value systems that determine what is just or unjust are all influenced by the stories we tell ourselves. In addition, human beings exist in a planetary context with many other entities (species, rivers, glaciers, oceans) that have a "story" to tell and that are parts of our own stories. Finally, the power of story and re-narration helps to rethink and create new communities, as we have seen with the MeToo, Black Lives Matter, and Fridays for Future movements. Counterpoint, in collaboration with The Pachaysana Institute, is offering a 4-part online workshop series that focuses on storytelling and its relationship to knowledge, justice, healing, and the creation of new possible futures for the planetary community.
Over the month of October, we met every Wednesday to discuss the various dimensions of this theme with internationally renowned experts from various professions and disciplines. After an introductory meeting on 7 October, the workshop series focused on storytelling and its relationship to knowledge, justice, healing, and the creation of new possible futures for the planetary community. Each day consisted of a panel discussion on a specific topic, followed by an interactive workshop with all participants.
Introductory Webinar (7 October, 11AM–12PM EST)
Storytelling for social and planetary change: An interactive introduction to the theme, offered by the Pachaysana Institute and Counterpoint.
Speakers: Grace Logan, David Bryan, Whitney A. Bauman, and Kocku von Stuckrad (please find bios of all speakers below)
| Watch the recording of this webinar |
Storytelling as Knowing (14 October)
One way to think about how we know about the world in which we live is through storytelling. When we first get to know a person, place, thing, or any other entity, we often start by listening to a story. The same happens when nonhuman persons meet, or when we meet nonhuman actors ourselves. It is also true of places, ideas, and just about anything else we get to know. Stories help us attune to our shifting selves and the bodies around us to which we are connected. Stories are always ongoing and open-ended, and they are all interpreted differently by their listeners. In a word, stories are contextual. Our raced, gendered, sexed, and classed bodies all provide us with different lenses on the world through which we tell our own stories. For Indigenous peoples across the world, storytelling is the primary means for knowledge transmission.
This workshop will focused on the art of storytelling as it pertains to human knowing. It included academics, artists, writers, and activists that engage the art of story as knowledge. It also provided participants with a chance to think about their own stories in relationship to planetary others, and to explore new ways of "storying" the world.
Panel (11AM–12:30PM EST): With David Abram, Juan Sanchez, and Polly Walker (please find bios of all speakers below)
Interactive Workshop (12:45PM–2PM EST): With Guest Facilitation by Juan Sanchez
| Watch the recording of this webinar |
Justice and Healing (21 October)
Ways of knowing and action are inextricably linked together. Stories matter for the justification of actions; in other words, stories always include notions of ethics, justice, and healing. It is important to listen to the ways in which many different bodies are affected by different narratives and stories in order for justice and healing to occur. Modern, Western, colonial stories, for instance, have often not been good for black and brown bodies, female bodies, and the bodies of the rest of the natural world. Pan-Indigenous movements, the Occupy Wallstreet movement, farmers protests around the world, MeToo, Black Lives Matter, Fridays for Future, and many more are calling out the damaging ways in which colonial, sexist, racist, and anthropocentric stories harm many bodies around the planet. The airing of these stories is centered on healing and justice. They point out the distortions that exist because of extant stories that shape unjust human-human and human-earth relations. And, they demand that new stories be told; stories which aim toward the flourishing of the multiple bodies that make up the planetary community.
This section of the workshop focused on the telling of some of these stories and how these stories can help heal the broken planet.
Panel (11AM–12:30PM EST): With Carol Wayne White, Teya Brooks Pribac, and Hector Aristizábal (please find bios of all speakers below)
Interactive Workshop (12:45PM–2PM EST): With Guest Facilitation by Hector Aristizábal
| Watch the recording of this webinar |
Re-narrating (28 October)
In order to change the planet, we also need new stories. As Ursula K. Le Guin argued, one of the things the world needs most right now is more speculative fiction. This genre, though not only this genre, helps us to think outside of our regular narratives and habits of thinking about things that seem "out of this world" from the present. So, we need people writing such speculative stories. However, we also need people questioning the names of places, peoples, and things. Why do we narrate the present moment as "the Anthropocene"? Why do we venerate old confederate slave supporters and the early colonists who helped to commit genocide on the American continents? What type of memorials might help us re-member and re-narrate our present in ways that take into account multiple voices, and not just the voices of the colonizing 'victors'? Furthermore, how do we tell more stories that write human beings back into the rest of the planetary community, rather than making human beings the exceptions to the rest of the natural world?
Panel (11AM–12:30PM EST): With David George Haskell, brontë velez, and Alexandra Cornelius (please find bios of all speakers below)
Interactive Workshop (12:45PM–2PM EST): With Guest Facilitation by brontë velez
| Watch the recording of this webinar |
---
Speakers
David Abram, PhD, is an American philosopher, cultural ecologist, and performance artist, best known for his work bridging the philosophical tradition of phenomenology with environmental and ecological issues. He is the author of Becoming Animal: An Earthly Cosmology (2010) and The Spell of the Sensuous: Perception and Language in a More-than-Human World (1996), for which he received, among other awards, the international Lannan Literary Award for Nonfiction. A fellow at Schumacher College, David is co-founder and creative director of the Alliance for Wild Ethics.
Hector Aristazabal was born and raised in Medellin, Colombia, and forced into exile. Since then he has dedicated his life to working in war zones and areas of extreme conflict. He combines deep ecology,  theater, storytelling, and activism in the creation of rituals that foment healing and social transformation.  After living for 28 years in exile, Héctor recently returned to his native country and now works with Reconectando, a project that accompanies the work of the Truth Commission in Colombia.
Whitney A. Bauman is one of the co-founders and co-directors of Counterpoint: Navigating Knowledge, and Associate Professor of Religious Studies at Florida International University. He is the co-author (with Kevin O'Brien) of Environmental Ethics and Uncertainty: Wrestling with Wicked Problems (Routledge 2019), and Religion and Ecology: Developing A Planetary Ethic (Columbia University Press, 2014).
Teya Brooks Pribac, PhD, is an independent scholar and multidisciplinary artist. Her book Enter the Animal: Cross-Species Perspectives on Grief and Spirituality is forthcoming from Sydney University Press.
Daniel Bryan is an educator, activist, and artist. He is the co-founder and Director of the Pachaysana Institute, a non-profit educational organization dedicated to community-based, fair-trade, intercultural education programs in Ecuador.
Alexandra Cornelius  is a Senior Instructor in History and African and African Diaspora Studies (AADS) at FIU where she also serves as the Associate Chair of the Department of History. She has served as the Principal Investigator on the Teach American History (TAH) grant and as a Co-Principal Investigator on the Florida Teacher Quality Grant (FTQG). Dr. Cornelius created and offered courses in African American Men and Women's Intellectual History; Civil War and Reconstruction; Race, Gender and Science in the Atlantic World; New Directions in African American History; and Social Movements in Modern United States History.
David George Haskell is Professor of Biology and Environmental Studies at the University of the South, where he served as Chair of Biology. His work integrates scientific, literary, and contemplative studies of the natural world. His latest, award-winning book, The Songs of Trees: Stories from Nature's Great Connectors, examines the many ways that trees and humans are connected.
Grace Logan was a graduate of Pachaysana's Rehearsing Change program in 2017 and is now Pachaysana's Fellow. She has coordinated community-based education programs, Participatory Action Research projects and led Pachaysana's international outreach department.
Juan G. Sánchez Martínez grew up in Bakatá/Bogotá, Colombian Andes. He dedicates both his creative and scholarly writing to Indigenous cultural expressions from Abiayala (the Americas.) His book of poetry, Altamar, was awarded in 2016 with the National Prize Universidad de Antioquia, Colombia. He collaborates and translates for the online publication Siwar Mayu, A River of Hummingbirds. His recent work includes Muyurina y el presente profundo. Poéticas andino-amazónicas.(2019); and Cinema, Literature and Art Against Extractivism in Latin America. Dialogo 22.1 (2019). He is currently a professor of Languages and Literatures, and Native American and Indigenous Studies at the University of North Carolina Asheville.
Kocku von Stuckrad is one of the co-founders and co-directors of Counterpoint: Navigating Knowledge. As a Professor of Religious Studies at the University of Groningen (Netherlands), he works on the cultural history of religion, science, and philosophy in Europe. He lives in Berlin. A revised English version of his recent German book about the topic of this blog post will be published as The Soul in the Twentieth Century: Insights in Psychology, Science, Nature, Philosophy, Spirituality, and Politics from Europe and America by Columbia University Press by the end of 2020.
brontë velez is a black-latinx transdisciplinary artist, designer, trickster, and wakeworker, whose eco-social art praxis lives at the intersections of black feminist placemaking & prophetic community traditions, environmental justice, and death doulaship. They serve as creative director for Lead to Life design collective, educator for ancestral arts skills and nature-connection at Weaving Earth , and quotidian black queer lifemaking ever-committed to humor & liberation, ever-marked by grief at the distance made between us and all of life.
Polly Walker is of Tsalagi descent and a member of the Cherokee Southwest Township. She currently lives on the homelands of the Onyata'a:ka, the People of the Standing Stone, the Oneida Nation. She is Chair of the Indigenous Education Institute and Director of the Baker Institute of Peace and Conflict Studies at Juniata College. Her work focuses on transforming conflict between Indigenous and non-Indigenous peoples and the role of ritual in these processes. She is a co-editor of "Acting Together: Performance and the Creative Transformation of Conflict," and  serves as a member of the executive committee of IMPACT, a global platform for the arts, cultural and conflict transformation.
Carol Wayne White is  Professor of Philosophy of Religion at Bucknell University, specializing in poststructuralist philosophies and religious naturalism. Her books include Poststructuralism, Feminism, and Religion: Triangulating Positions (2002); The Legacy of Anne Conway (1631-70): Reverberations from a Mystical Naturalism (2009); and Black Lives and Sacred Humanity: Toward an African American Religious Naturalism (2016), which won a Choice Award for Outstanding Academic Titles.
Photo credit: © The Pachaysana Institute 2020