Facing Apocalypse: Climate, Democracy, and Other Last Chances
A Discussion of Catherine Keller's New Book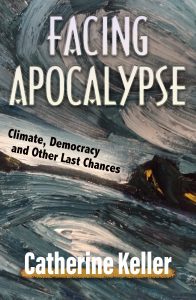 Please join Counterpoint for an online discussion of Catherine Keller's new book,
Facing Apocalypse: Climate, Democracy, and Other Last Chances (Orbis Books 2021)
Date: 11 May 2021
Time: 11:00-12:30 EST / 17:00-18:30 CET
---
Drawing on John's prophetic Apocalypse, Catherine Keller, George T. Cobb Professor of Constructive Theology at Drew, offers a dreamreading of current global crises—of growing tangles of ecological and social degradation. Apocalypse means 'unveiling,' not 'The End.' It yields not a prediction of coming events, but a parable of present peril and possibility. You can find out more about the book here: https://www.orbisbooks.com/facing-apocalypse.html.
Dr. Keller will say a few words about her new book, followed by a panel discussion with Dr. Marion Grau, Dr. Mary-Jane Rubenstein, and Dr. Zairong Xiang. An open discussion with all Zoom participants will follow. The event will be moderated by Counterpoint Co-Director, Dr. Whitney Bauman.
This event is free and open to the public. Please see the details below.
Catherine Keller is George T. Cobb Professor of Constructive Theology in The Graduate Division of Religion of Drew University. She teaches and lectures across a broad spectrum of pluralist, ecofeminist, process and political theology. Books she has authored include From a Broken Web; Apocalypse Now & Then; God & Power; Face of the Deep; On the Mystery; Cloud of the Impossible; and most recently, Political Theology of the Earth: Our Planetary Emergency and the Struggle for a New Public. She has also co-edited several volumes of the Drew Transdisciplinary Theological Colloquium, most recently Entangled Worlds: Religion, Science and the New Materialism.
Panelists:
Dr. Marion Grau
Marion Grau is Professor of Systematic Theology, Ecumenism, and Missiology at MF Norwegian School of Theology, Religion, and Society in Oslo, Norway. Her teaching interests are in constructive theology and her current research projects include the redevelopment of pilgrimage and the reshaping of identity in Norway as well as a theology of petroleum economies and climate change in the Northern hemisphere. She is the author of Rethinking Theological Hermeneutics: Hermes, Trickster, Fool (Palgrave MacMillan, 2014); Rethinking Mission in the Postcolony: Salvation, Society, and Subversion (T&T Clark/Continuum, 2011); and Of Divine Economy: Refinancing Redemption (T&T Clark/Continuum, 2004).
Dr. Mary-Jane Rubenstein
Mary-Jane Rubenstein is Professor of Religion and Science in Society at Wesleyan University. Her current book project is entitled, Heaven on Mars: The Disorganized Religion of the New Space Race, which extends the critique she began in the co-authored Image: Three Inquiries in Technology and Imagination, with Thomas Carlson and Mark C. Taylor (University of Chicago Press, 2021). She is the author of Pantheologies: Gods, Worlds, Monsters (Columbia, 2018), Worlds Without End: The Many Lives of the Multiverse (Columbia, 2014); and Strange Wonder: The Closure of Metaphysics and the Opening of Awe (Columbia, 2009); and co-editor with Catherine Keller of Entangled Worlds: Religion, Science, and the New Materialisms (Fordham, 2017).
Dr. Zairong Xiang
Zairong Xiang is Assistant Professor of Comparative Literature and Associate Director of Art of Duke Kunshan University. He is author of Queer Ancient Way: A Decolonial Exploration (punctum books, 2018). He was chief curator of the "minor cosmopolitan weekend" at the HKW (2018), and editor of its catalogue minor cosmopolitan: Thinking Art, Politics and the Universe Together Otherwise (diaphanes 2020). As a member of the Hyperimage Group, he has co-curated the 2021 Guangzhou Image Triennial. He is working on two projects, respectively dealing with the concepts of "transdualism" and "counterfeit" in the Global South especially Latin America and China.  All his writings could be read here: www.xiangzairong.com.
---
For joining the Zoom event, please follow this invitation by Whitney Bauman (he/him/his):
Topic: Counterpoint Book Event: Catherine Keller Facing Apocaplypse
Time: May 11, 2021 11:00 AM Eastern Time (US and Canada)
Join Zoom Meeting: https://fiu.zoom.us/j/91360430310
The event will also be broadcasted live on the Counterpoint Facebook Page.