Enter the Animal: Cross-species Perspectives on Grief and Spirituality – A Discussion Centered on Teya Brooks Pribac's New Book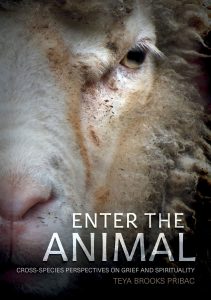 Please join Counterpoint for an online discussion centered on Teya Brooks Pribac's new book,
Enter the Animal: Cross-species Perspectives on Grief and Spirituality (Sydney University Press, 2021)
Date: 13 July 2021
Time: 3-4:30pm EST / 9-10:30pm CET / 5-6:30am (14 July) AEST
In Enter the Animal Dr. Teya Brooks Pribac examines academic and popular discourse on animals' experiences of grief and embodied spirituality, builds a theoretical framework for a more rigorous and less anthropocentric consideration of both topics, and highlights important ethical implications of humans' treatment of other species. Following a brief historical overview of academic/scientific treatment of animal subjectivity, the book offers a more detailed consideration of the two topics, concluding that the reason we can experience grief and relate spiritually is because we are animals, not despite the fact that we are animals.
Dr. Brooks Pribac will say a few words about her new book, followed by a panel discussion with Dr. Laura Hobgood, Dr. Donovan Schaefer, and Dr. Carl Safina. An open discussion with all Zoom participants will follow. The event will be moderated by Counterpoint Co-Director, Dr. Kocku von Stuckrad.
This event is free and open to the public. Please see the details below.
Teya Brooks Pribac is an independent scholar and multidisciplinary artist. She lives in the Australian Blue Mountains with sheep and other animals.
---
Panelists:
Dr. Laura Hobgood is Professor and Holder of the Paden Chair in Religion and Environmental Studies at Southwestern University. Her main areas of teaching and research are: animals and religion, religion and nature, critical feminist theory, critical animal studies, and apocalyptic thought. Laura is the author of several books (Holy Dogs and Asses: Animals in the History of Christianity; A Dog's History of the World; The Friends We Keep), editor of several volumes, and author of numerous articles and essays. Her current book project explores cycling as an alternative form of religion that connects with the natural world and intersects with social justice. She is also very much involved with dog and wildlife rescue efforts as well as environmental activism.
Dr. Donovan Schaefer is an assistant professor in the department of religious studies at the University of Pennsylvania. He joined the department in 2017 after spending 3 years teaching at the University of Oxford. His first book, Religious Affects: Animality, Evolution and Power was published by Duke University Press in 2015. It explored the relationships between theories of feeling, religion, and the experience of animals. His second book, Wild Experiment: Feeling Science and Secularism after Darwin (forthcoming from Duke in 2022), considers how affect theory can be applied to science, secularism, race, and conspiracy theory.
Dr. Carl Safina's lyrical non-fiction writing explores how humans are changing the living world, and what the changes mean for non-human beings and for us all. His work fuses scientific understanding, emotional connection, and a moral call to action. His writing has won a MacArthur "genius" prize; Pew, Guggenheim, and National Science Foundation Fellowships; book awards from Lannan, Orion, and the National Academies; and the John Burroughs, James Beard, and George Rabb medals. He grew up raising pigeons, training hawks and owls, and spending as many days and nights in the woods and on the water as he could. Safina is now the first Endowed Professor for Nature and Humanity at Stony Brook University and is founding president of the not-for-profit Safina Center. He hosted the PBS series Saving the Ocean, which can be viewed free at PBS.org. His writing appears in The New York Times, TIME, The Guardian, Audubon, Yale e360, and National Geographic, and on the Web at Huffington Post, CNN.com, Medium, and elsewhere. Safina is the author of ten books including the classic Song for the Blue Ocean, as well as New York Times Bestseller Beyond Words: What Animals Think and Feel. His most recent book is Becoming Wild: How Animal Cultures Raise Families, Create Beauty, and Achieve Peace. He lives on Long Island, New York, with his wife Patricia and their dogs and feathered friends.
---
For joining the Zoom event, please follow this invitation by Whitney Bauman (he/him/his):
Topic: Counterpoint Event
Time: Jul 13, 2021 03:00 PM Eastern Time (US and Canada)
Join Zoom Meeting: https://fiu.zoom.us/j/93273235542
Meeting ID: 932 7323 5542
The event will also be broadcasted live on the Counterpoint Facebook Page.
---
Image credits: "Charlie" – © Teya Brooks Pribac, 2020