Courting Climate Justice in Norway: Reflections on the People vs. Arctic Oil Lawsuit
By Marion Grau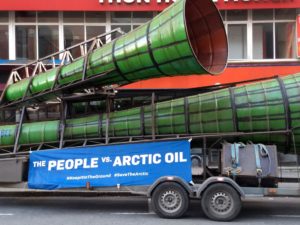 If you want to see climate policy schizophrenia in action, Norway presents an illuminating case. On the one hand, Norway has a long history of environmental policies. Under the Brundtland government, Norway was a major force in drafting the Our Common Future Report (1987) that established the concept of sustainability. In 1992, Norway added Article 112 to its constitution, which begins: "Every person has the right to an environment that is conducive to health and to a natural environment whose productivity and diversity are maintained."
This article is the subject of an ongoing lawsuit against the government. On the heels of an increasing number of climate action lawsuits, the People vs. Arctic Oil lawsuit entered its second round in November 2019. A decision is expected in late 2019 or early 2020, which will probably take the lawsuit all the way to the Norwegian Supreme Court.
I have been following the lawsuit here in a small courtroom in Oslo. The largest group of observers are young Norwegian activists, along with stalwarts from Grandparents' Climate Action who have been working on this case for years. Most of the younger activists are in their early twenties, representatives of Nature and Youth (Natur og Ungdom) or Greenpeace Norway. The two lawyers representing the plaintiffs have witnesses and cite a multitude of other, similar lawsuits, in particular the Dutch Urgenda lawsuit. The lawyer representing the government brings no witnesses and limits himself to repeating the same line of arguments most Norwegians grew up with: Norway's oil is "cleaner," "greener," "fights poverty," and (an old favorite) "our social democracy and system of solidarity is dependent on oil money." Somewhere between dismissive and misleading, the government side acts as if the environmental organizations and their lawyers are a mere nuisance—an annoying fly in the oil ointment, something to be swatted away. In contrast, the plaintiffs speak on behalf of current and future generations and their right to a livable environment, which benefits all citizens and everyone involved.
In more than one way, this lawsuit demonstrates once again the fundamental schizophrenia in Norwegian environmental policies. Indeed, as Anne Karin Sæther, Aage Borchgrevink, and other Norwegian investigative journalists have shown, Norway's intention to be a primary force in the UN's move toward economic and ecological sustainability was quickly undermined by the contemporaneous desire to exploit the oil resources found off the coast of Norway from 1971 onward. The resulting activities fly in the face of any serious ecological policy. The most famous example is of course Exxon, which has demonstrably silenced its own scientists on climate change. In Merchants of Doubt, Naomi Oreskes and Erik M. Conway make clear how climate change discourse was systematically undermined, with enormous amounts of money used to fund an industry of denial instead.
The same type of propaganda, although more subtle, has long been a reality in Norway more broadly. With this climate lawsuit, it seems to have entered a far more aggressive and increasingly desperate phase. Statoil—recently renamed Equinor—plastered Oslo's public transportation with a blend of propaganda and infotainment. For this campaign, it used the center-right leaning Aftenposten, the biggest Norwegian newspaper, to further blur the boundaries between journalism and PR. It produced stories, commercials, and even podcasts in an attempt to control Statoil/Equinor's image. The campaign triggered ad-hacking responses from activists who provided their own answers to the podcasts' rhetorical questions: "Why do we still need more oil exploration?" Answer: "Because profit and greed is held in higher esteem than future generations."
Clearly, something has happened to Norwegian public discourse in the last couple of years. NGOs and religious actors have increasingly joined forces and have attracted a lot of support. As a backlash, we see schoolchildren shamed—whether Greta Thunberg or kids in Oslo—on Public TV stations as well as on social media. This is a more visible form of the transgenerational violence that is part of the propaganda and disinformation war which oil interests have long been waging.
This lawsuit will not stop climate change, but it tests the boundaries of the law and, concretely, aims to stop the 23. round of oil concessions in the far North Barents Sea opened by the Norwegian government and any other oil exploration that far North. The lawsuit is a last-ditch effort to enlist a higher legal power to counteract the continued enthusiasm for oil among the Norwegian ruling parties. Can Article 112 have a concrete impact? Can it publicize the difference between Norwegian oil industry PR—with its deep links to large parties on the left, right, and center—and what is actually financially reasonable and ecologically possible in a climate change scenario? There are signs that this case has become a major factor in changing public opinion and consequently increasing pressure on both the political apparatus and the legal system to disentangle themselves from the oil slicks that have gunked Norway's ecological conscience.
The remaining integrity of Norwegian ecosystems is under attack. Glaciers are melting or already gone, yet the Norwegian government continues to open more areas for oil exploration, despite massive protests.
Again, Norwegian citizens and activists find themselves wondering how the ecocidal tendencies of their current government can be reined in by a tiny paragraph, which seems to be the last legal recourse before the next parliamentary election in 2021. In the meantime, many people are working to shift public discourse and to educate the public on what is happening and how to participate in reducing CO2. Most recently, Greta Thunberg, who has given the prize money from the Norwegian Fritt Ord (Free Word) Foundation to support the People vs. Arctic Oil lawsuit, has co-written a letter to PM Erna Solberg criticizing the Norwegian government for failing to meet its stated CO2 reduction goals, and in fact being the worst in its class in Europe.
Helping people understand how political pressure, combined with changes in consumption and spending, may bring about the changes that governments are not willing to make may be the most important lesson here.
#
Marion Grau is Professor of Systematic Theology, Ecumenism, and Missiology at MF Norwegian School of Theology, Religion, and Society in Oslo, Norway. Her teaching interests are in constructive theology and her current research projects include the redevelopment of pilgrimage and the reshaping of identity in Norway as well as a theology of petroleum economies and climate change in the Northern hemisphere. She is the author of Rethinking Theological Hermeneutics: Hermes, Trickster, Fool (Palgrave MacMillan, 2014); Rethinking Mission in the Postcolony: Salvation, Society, and Subversion (T&T Clark/Continuum, 2011); and Of Divine Economy: Refinancing Redemption (T&T Clark/Continuum, 2004).
---
Counterpoint blogs may be reprinted with the following acknowledgement: "This article was published by Counterpoint Navigating Knowledge on 11 December 2019."
The views and opinions expressed on this website, in its publications, and in comments made in response to the site and publications are those of the author(s) and do not necessarily reflect the views and opinions of Counterpoint: Navigating Knowledge, its founders, its staff, or any agent or institution affiliated with it, nor those of the institution(s) with which the author is affiliated. Counterpoint exists to promote vigorous debate within and across knowledge systems and therefore publishes a wide variety of views and opinions in the interests of open conversation and dialogue.
Photo credit: © Marion Grau, 2019