Climate Strikes as Rituals to Save the Earth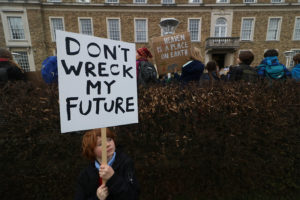 Last month, hundreds of thousands of young people around the world walked out of classrooms and into the streets to draw attention to climate change and to protest government inaction. Focusing on Friday, September 20th as a day of global climate protest, youth and their supporters in multiple countries and continents, including Australia, India, Greece, El Salvador, China, Afghanistan, Indonesia, Pakistan, the United States, Nigeria, and most European countries, walked into public spaces carrying signs that read "Save Our Future," "If You Don't Act Like Adults, We Will," and "You Will Die of Old Age, We Will Die of Climate Change."
The recent youth-led climate movement began on August 20, 2018, when Swedish climate activist Greta Thunberg, who was then in the ninth grade, skipped school and sat outside the Swedish parliament building, alone, holding a sign that translated "school strike for climate." On the second day, people started joining her. Six months later, on March 15th, over a million students participated in school strikes for climate, and the movement grew from there.
How might climate strikes function as rituals to save the earth? In a 2003 article "Ritual Theory and the Environment," ritual theorist Ronald Grimes described some ways in which people were turning to rites such as tree ordination, symbolic walks re-enacting the story of evolution, and ritualizing prairie burnings for restoring ecosystems as "effective means of saving the planet from environmental destruction." Climate strikes differ in that they are global, rather than local, are coordinated to happen simultaneously, and are widely covered by the news media and social media networks. Yet young climate strikers, through ritualized protest activities such as walking out of school, similarly draw on the potential efficacy of ritual. Their bodies acting together in the streets are engaged in ritualized activities that make the streets and public squares into sacred spaces that embody what the protesters most cherish, their ultimate values: the integrity of the planet, the rights of all people to a future. And they seem to be having some impact.
Although protests concerning climate change have been happening for years, recent climate strikes have brought young people forward as actors on the world political stage in unprecedented ways, with high school students leading the way. These students claim public space in ritualized ways, orchestrating their movements, chanting together, and carrying symbolic objects such as posters with slogans. Their bodies, acting together, bring the vision of a different future into public awareness, by seizing spaces (such as Westminster, the heart of government power in London) identified with empire, progress, the ways things have been done by industrialized nations and corporate powers. Climate strikers reject what these spaces of power stand for and demand a future that enables the flourishing of humans and the rest of the living world.
What does it mean to walk out of school and into the streets? Climate strikes feature the presence of young people in political spaces where they previously rarely appeared, such as Thunberg addressing the U.N. Climate Action Summit in New York in September 2019. At the same time, strikers are absent from schools. In Deschooling Society (1970), philosopher Ivan Illich remarked that school is "the advertising agency that makes you believe that you need the society as it is." Walking out of schools is a kind of walking that refuses a particular reality (society as it is).
In addition to walking, bodies acting together, in alliance, claim political space that was not previously theirs. Philosopher Judith Butler argues in "Bodies in Alliance and the Politics of the Street," her analysis of protests during the (also youth-led) Arab Spring, that bodies congregating, moving, and speaking together, lay claim to public space and transform its meaning. Such alliances, argues Butler, enact the social order they want to bring about by severing "the relation between the public space, the public square, and the existing regime." This is what walkouts do to the streets strikers occupy.
Walking out is a ritualized activity connecting youth climate strikers with a long history of walkouts, such as civil rights and labor walkouts in the U.S., protests that fractured the taken-for granted reality and called something new into being. The Civil Rights Movement used walking as a protest activity, including students walking into places, such as segregated schools, from which they had previously been excluded. In the U.S., other youth walkouts took place in 2018 when Marjory Stoneman Douglas High School students in Parkland, Florida organized walkouts to protest gun violence (Greta Thunberg was inspired by them). During the 1960s, high school students used walkouts to make substantial changes to social institutions, as in 1968, when more than 10,000 students walked out of five Los Angeles high schools to protest racist teachers and lack of funding, in what became known as the East L.A. school walkouts or "blowouts."
In walkouts, youth become vulnerable. They put their bodies on the line, risking penalties at school at one end of the spectrum or, as in the case of school girls in Afghanistan, violence not unlike the white racist violence directed at those African American students who walked into segregated schools risking retribution from the Ku Klux Klan during the American Civil Rights era. But it is the risk and the vulnerability that helps strengthen their message.
In my book For the Wild: Ritual and Commitment in Radical Eco-Activism (2017), I describe the ways in which activists' vulnerable bodies in protest actions such as tree-sits and road blockades bring into public view other beings. In climate strikes too, activists' rebellious and vulnerable bodies turn streets that would channel cars burning fossil fuels through cities into sites of resistance, making visible the unseen climate costs of our lifestyles. These protests are interventions, ruptures in the social order. Performance theorist Tony Perucci calls protests "ruptural performances" because "they disrupt the experience of daily life, a rupture of the living of social relations…." Climate activists make visible the disruptions of climate change, other forms of life on earth that are being effected, Indigenous communities, and poor communities that are disproportionately bearing the brunt of climate change. These often invisible "others" are brought into public view when activists' bodies assemble in the streets, referencing the lives of suffering others.
Climate strikers insist that the world can be otherwise, that there is a better way. It is these alternate ways of thinking and being in the world that give protests their distinctive qualities. Strikers participate in and orchestrate performances meant to skew assumptions about what and who is of value.
By enacting the social order they want to bring about, through these ritualized processes of walking out of schools and into the streets, youth themselves are transformed at the same time that they also transform the broader public that sees/witnesses their actions in person or on the screen. After witnessing the youth climate strike in New York City in September, for instance, activist and author Bill McKibben was brought to tears. It was a "quantum step up in numbers, but also in spirit." Now, he says, how "that race between destruction and hope comes out is anybody's guess."
#
Sarah M. Pike, Ph.D., is Professor of Comparative Religion and Chair of the Department of Comparative Religion and Humanities at California State University, Chico. She has written numerous articles and book chapters on contemporary Paganism, ritual, the New Age movement, the primitive skills movement, the Burning Man festival, spiritual dance, memorializing; environmental activism, and youth culture. Her most recent book is For the Wild: Ritual and Commitment in Radical Eco-Activism (University of California Press, 2017), an ethnographic study of radical environmental and animal rights activism, ritual, and youth culture.
---
Counterpoint blogs may be reprinted with the following acknowledgement: "This article was published by Counterpoint Navigating Knowledge on 16 October 2019."
The views and opinions expressed on this website, in its publications, and in comments made in response to the site and publications are those of the author(s) and do not necessarily reflect the views and opinions of Counterpoint: Navigating Knowledge, its founders, its staff, or any agent or institution affiliated with it, nor those of the institution(s) with which the author is affiliated. Counterpoint exists to promote vigorous debate within and across knowledge systems and therefore publishes a wide variety of views and opinions in the interests of open conversation and dialogue.