Art-Work in the Age of Trump
By Rachel Alliston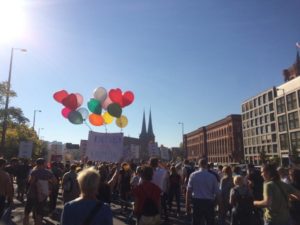 Last August, at a Counterpoint conference in Berlin, Anthea Butler gave a keynote speech on the intersection of religious practice, religious freedom, and the secular state. At one point, drawing on France's burkini debate, Butler spoke about how the "female body in public spaces" is an arena where church, culture and state are played out. Butler's lecture reminded me of an earlier project of my own, in which I considered the attitudes and assumptions lingering from Europe's colonial period and their influence on social hierarchies today.
Following the 2011 French ban on wearing Islamic face coverings in public, I wrote an essay, "French Terror and the Political Architect," on France's colonial history in Algiers, its recruitment of workers after the second world war, and this history's impact on Islamophobic legislation in the twenty-first century. Sadly, tensions in Europe around national culture and Muslim belonging have since continued to mount.
Visual art might seem remote to such conversations; more broadly speaking, art often seems a niche isolated by its own elitism. But artists and curators are embedded in society, and art institutions—from small nonprofits to national museums—have an indirect but substantial impact on the "mainstream" visibility of previously marginalized groups. By exhibiting artists of diverse backgrounds and artworks that reflect a wide range of perspectives on society, art spaces and those who run them contribute to the acceptance of these perspectives and to broadening the national conversation.
Thelma Golden is current director of the Studio Museum in Harlem, and previously was a curator at the Whitney Museum of American Art, where she organized two heavily political exhibitions: the 1993 Whitney Biennial and, in 1994, Black Male. Golden has spoken on the importance of art collections and art institutions to developing a more nuanced understanding of black culture and the history of black art. This appreciation for the role of art institutions began with Golden's participation in the Metropolitan Museum of Art's internship program for high school students. Elaborating on the social importance of art institutions, Golden gave another lecture in 2012 at Crystal Bridges (Arkansas), a private museum for American art founded by Walmart heiress Alice Walton. It's striking to remember that fifty years earlier, in this corner of the United States, black museum visitors were allowed entry to art museums only one day of the week.
By August 2018, my faith in such steady social progress had been shaken. At the Counterpoint conference, the panel discussion following Butler's keynote centered on the joint crises of culture wars, climate change and the rise of the far-right.
In 2017, Germany's extreme right had regained a place in the federal government for the first time since 1949. On 14 October 2018, elections were held in Bavaria, a conservative, southern German state central to the national economy. The progressive Social Democrats, long the second party in Bavaria (after the conservative Christian Social Union, CSU), fell to fifth place. The far-right Alternative for Germany (AfD), founded in 2013 with an Islamophobic and anti-immigrant platform, came in fourth though it had never previously held a seat in the Bavarian parliament. The environmentalist Green Party came in second. An anti-Nazi demonstration took place in Berlin the same day, drawing well over two-hundred-thousand marchers.
The morning after, everyone returned to work and to the question of where one fits in this political polarization and the rise of the far-right. I myself am the director of Decad, a not-for-profit art space in Berlin, which focuses on the social critiques offered by artists today, from those addressing ecological destruction and administrative censorship to those exploring the influence of digital technologies on human interactions.
 On the morning after the election in Bavaria and the demonstration in Berlin, like many working in the field of contemporary art, I wondered what art really can do.
#
Rachel Alliston is an artist based in Berlin. She has previously studied visual art and art history at the University of Bristol (UK), Hunter College (US), and University College London. She is the current director of the not-for-profit art space Decad, which she founded in 2012. In 2018, Alliston began research on a feature-length documentary film that will depict six communities impacted by both terrorist violence and the bias of federal institutions; filming is based in three of the United States and three former Soviet republics.
---
This Counterpoint blog may be reprinted with the following acknowledgement: "This article was published by Counterpoint Navigating Knowledge on 24 October 2018."
The views and opinions expressed on this website, in its publications, and in comments made in response to the site and publications are those of the author(s) and do not necessarily reflect the views and opinions of Counterpoint: Navigating Knowledge, its founders, its staff, or any agent or institution affiliated with it, nor those of the institution(s) with which the author is affiliated. Counterpoint exists to promote vigorous debate within and across knowledge systems and therefore publishes a wide variety of views and opinions in the interests of open conversation and dialogue.