The Other Side of the Mountain: Art, Ritual, and Climate Change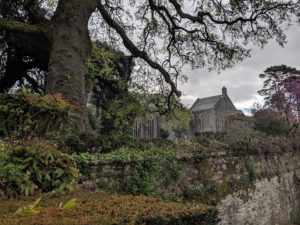 June volunteers to go first. She stands with legs apart in a firm stance, speaking slowly with a fixed gaze, "I am timeless. I am mystery. Humans have taken it upon yourselves to know me, conquer me, discover me, claim me. No." After a brief silence, another participant hesitates a guess that she was a mountain. Other participants take their turns, each embodying a part of nature: the ocean, coral reefs, predator animals, herding animals, scavengers, forests, the atmosphere.
It was an experiment in bringing this nature—these beings—into the room to see what kind of conversations we could have with them present. Before we began, we were invited to think about extinction. What is extinction? Many creatures are being lost, but this is not unusual for the planet. What is different about the sixth mass extinction is that it is driven by human action. The UN reports that 1 million species are currently threatened with extinction. We were invited to feel this loss, to bring those beings into the room, not just hear words about their destruction.
The experiment was part of a short course held at Schumacher College called Coming Down the Mountain. The organizers, Charlotte Du Cann and Dougald Hine, are part of the Dark Mountain Project, a network of artists, writers, and activists. The course marked the end of Hine's involvement with the project, which began when he and Paul Kingsnorth wrote the Uncivilization Manifesto in 2009. An excoriating rejection of technological progress, the Manifesto suggested a starting point to address the present ecological crisis without false hopes of preventing climate change.
In arguing for a shift away from anthropocentrism, Hine and Kingsnorth focused on storytelling to bring in other-than-humans and create new ways of imagining the future. Following from the Manifesto, there were, starting in 2010, four festivals and the publication of an anthology of poems, stories, essays, and artwork. The Dark Mountain Project became a gathering place for storytellers of all kinds searching for a way to express the loss and grief of the times we live in. Through this search, the purpose of art during ecological crisis came into view.
The purpose of art and ritual was one focus of the course at Schumacher College. Hine warned that people who study climate change may become desensitized to it. Like the Medusa from Greek myth, climate change has the power to turn to stone those who stared directly at it. Art could play the role of Perseus's mirror, according to Hine. It is a way to face climate change without being destroyed by it.
During the course we were set two tasks. In the first, small groups designed dinner table rituals that allowed us to raise difficult questions, putting them on the table so to speak. Ritual was a container in which to talk about the things we do not normally talk about. My group first set out an empty seat to acknowledge all those who were not present or represented at our table. Each attendee then brought food and money representing 0.01% of their annual income. We created mock money out of paper, burned it, and mourned the "winner," the person who had brought the most money. It was our way of highlighting economic inequality and the demographic bubbles we tend to live in. The purpose of this task was to create a ritual that we could take home to help others have these difficult conversations—although there were a few private murmurs by some who did not think they would ever do this at home.
For the second, individual task, each participant wrote 750 words on a Kairos moment. Du Cann described the mythical figure of Kairos, representing luck or opportunity, as a young man with a forelock which must be grasped at the exact right moment as he passes. The back of his head is shaved, and once he passes, he cannot be grasped again. On the last day, we read our stories one after the other, without comment. There were stories of moving from one home to another owing to various climate disasters, of trying to get warm, of dreams, of loss, pain, and realization. The stories told of the many ways the participants were facing up to the painful unraveling of the world they had known but also to the parts their own lifestyles play in the planetary problem.
In the small side conversations during that week, people talked about the changes they wanted to make in their lives, like eating less meat, killing fewer insects, starting window boxes to grow food outside apartment windows, writing about climate breakdown to spread awareness among social networks, changing jobs, buying a few acres of woodland to start an intentional community, or getting involved with local community activism or civil disobedience group Extinction Rebellion.
Although it has only been a few weeks since the course, the first piece of art produced by one participant was a keynote speech in a music tour called End Climate Chaos by composer and pianist Lola Perrin, who started an initiative called Climate Keys. Each Climate Keys concert starts with music followed by a short talk and audience discussion on how to respond to global warming. The final tour date featured one of our Schumacher College attendees, whose speech was based on her experiences there. There is also a plan to publish some of the stories we wrote in book form.
Each of these small acts is a way to engage with the chaos of climate breakdown without being overwhelmed or turned to stone.
#
Susannah Crockford is a post-doctoral researcher at Ghent University in Belgium. As part of the European Research Council funded NARMESH project, she is currently working on an ethnography of climate change discourse. She earned her PhD in anthropology in July 2017 from the London School of Economics, and previously completed an MA in religious studies at the University of Amsterdam and an undergraduate degree in anthropology at the University of Cambridge.
---
Counterpoint blogs may be reprinted with the following acknowledgement: "This article was published by Counterpoint Navigating Knowledge on 19 June 2019."
The views and opinions expressed on this website, in its publications, and in comments made in response to the site and publications are those of the author(s) and do not necessarily reflect the views and opinions of Counterpoint: Navigating Knowledge, its founders, its staff, or any agent or institution affiliated with it, nor those of the institution(s) with which the author is affiliated. Counterpoint exists to promote vigorous debate within and across knowledge systems and therefore publishes a wide variety of views and opinions in the interests of open conversation and dialogue.