EmPower: Climate Change and Gender Justice
By Vera Pokorny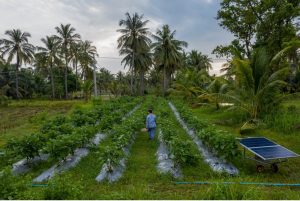 Amidst ever louder calls for urgent action to drastically transform our societies and economies in the face of climate change, there is increasing recognition of climate change as a human rights and social justice issue. But although climate change impacts the human rights of all of us, it does not do so equally. Indeed, how individuals and groups experience the changing climate depends on several, often intersecting, factors such as gender, age, health, sexual orientation, ethnicity, nationality, socio-economic status, and place. Not only do these factors define the level of any given individual's or group's vulnerability, but also their level of responsibility and, notably, their ability to adapt to climate change.
In terms of place, South and Southeast Asia are widely recognized as regions that are most affected by climate change. Yet as part of the Global South, they have historically contributed less to global CO2 emissions than the Global North. Research suggests that as of 2015 the latter was responsible for 92% of excess global CO2 emissions. The historical responsibility for climate change consequently lies predominantly with the Global North, while the vulnerability is predominantly and disproportionately being felt in countries of the Global South. It constitutes a grave injustice, that those historically less responsible for global emissions are those who must bear the brunt of the climate crisis and are the least equipped to lower their emissions.
A further divide in terms of responsibility and vulnerability in the context of this crisis persists between women and men. Discriminatory gender norms result in inequalities in income and workloads, as well as access to information and education, technology, and decision-making. These prevailing patriarchal norms and structures constitute a key barrier when it comes to women's ability to adapt to climate change, making them disproportionately vulnerable to it. Due to traditional gender roles and norms, women are often more dependent on local natural resources for their livelihoods, have less capacity to respond to natural hazards, and may lack the skills to access alternative sources of income.
Such was the case for Reti Khatun from Bangladesh. She had been the sole breadwinner in her family, but when COVID-19 hit, she suddenly found herself without a source of income. Through the EmPower project, the UN Environment Programme and UN Women have been working together to support women like Reti from rural communities with access to renewable energy as a sustainable source of energy to run their climate-friendly businesses and support their economic empowerment. Now Reti uses solar energy to power a water pump, lights, and fans to run her goat farm.
At the same time, the project has been working with stakeholders at the national level, to put gender on the table in discussions on climate change and renewable energy, while raising women's voices and encouraging their participation in these processes. Since 2018, the two UN agencies, with financial support from the Swedish government, have been engaging with the national governments in Bangladesh, Cambodia, and Viet Nam, along with other governmental, non-governmental, and civil society organization partners to build women's climate resilience.
The linkages between gender inequality and climate change make it quite clear that women in Southeast Asia face a distinct set of challenges in the context of a rapidly changing climate. In many ways, gender inequality, just like climate change, is driven by a patriarchal system. There is a growing understanding that we cannot tackle climate change without tackling the gender inequality that pervades our societies. Yet, women continue to be underrepresented in decision making processes related to climate change as well as in key sectors necessary for adaptation, including the renewable energy sector. In the Asia-Pacific region, women make up only 20% of national parliamentarians and lead a mere 7% of all environment-related ministries.
According to a survey conducted by IRENA, women make up 32% of the full-time workforce in renewable energy. This is a strategic failure. Research suggests that female representation in decision-making processes results in more stringent climate change policies. Women's participation in peace negotiations results has been shown to contribute to the conclusion of talks and the durability of agreements. Women hold knowledge and experiences about their communities and environment, related to their traditional roles in managing water, food, fuel, as well as both forests and agricultural land. This knowledge constitutes an indispensable contribution to paving pathways towards a greener future.
Integrating gender equality perspectives into renewable energy policy not only makes sense socially and environmentally, but also makes good economic sense by freeing up women's time to spend on other activities, including income generating activities. Provided with the right opportunities and resources, women can make a significant contribution to the renewable energy sector and benefit from the clean and sustainable energy provided.
Since 2018, through the support of EmPower, a total of 425 women have been provided with access to renewable energy and have been able to reap direct economic benefits through access to clean energy. Through dedicated financial schemes that were established under the project, many women have been economically empowered and built a variety of businesses. These include the use of solar dryers to dry fruit, shrimp, and other food products, solar pumps that are used to provide clean drinking water to communities, as well as solar pumps with drip irrigation that are used to irrigate vegetable fields.
This kind of economic empowerment is an important step for rural women in South and Southeast Asia—a demographic that is often overlooked by policy makers—to be able to break with societal norms and realize their human rights. Simultaneously, the use of and transition to renewable energy helps tackle climate change which ultimately benefits us all.
All in all, a feminist approach to the climate crisis allows for identifying those most vulnerable to the negative impacts of climate change and can help us challenge unequal power relations. It is an effective way for addressing climate change not merely as an environmental issue but as the complex social justice issue that it is, ensuring that no one is left behind.
#
Vera Pokorny is a human rights expert curious about beings, human or otherwise, interested in new ways of structuring society and achieving social and environmental justice. Much of her work has and continues to be focused on gender equality. She currently works at the UN Environment Programme's Asia Pacific Office as Associate Specialist in Climate Change, Gender and Human Rights.
---
Counterpoint blogs may be reprinted with the following acknowledgement: "This article was published by Counterpoint Navigating Knowledge on 22 June 2022."
The views and opinions expressed on this website, in its publications, and in comments made in response to the site and publications are those of the author(s) and do not necessarily reflect the views and opinions of Counterpoint: Navigating Knowledge, its founders, its staff, or any agent or institution affiliated with it, nor those of the institution(s) with which the author is affiliated. Counterpoint exists to promote vigorous debate within and across knowledge systems and therefore publishes a wide variety of views and opinions in the interests of open conversation and dialogue.
Photo credits: UNEP / Viet Nam.