Berlin's Contrapuntal Agency: 
Or, How Admitting the Knowledge of Place Can Change Science, Politics, and Culture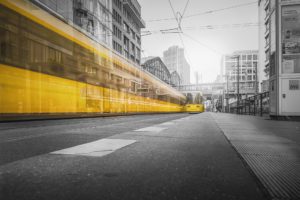 Do places have knowledge? Do they have memory? If places convey these to us, is this in some way agency? And what would science and politics look like if we admitted the presence of place into our work?
When you approach the city of Berlin by car, you pass a large sculpture of a bear positioned in the middle of the highway, marking the city limits and greeting the people who enter and leave. Whenever I pass the bear, I put my hand on my heart and bow. It's like entering a sanctuary, a protected space.
The longer I live in Berlin, the more I feel its presence and agency. As Rory MacLean puts it in his Berlin: Imagine a City (2014):
Berlin is a city that is forever in the process of becoming, never being, and so lives more powerfully in the imagination. Long before setting eyes on it, the stranger feels its aching absences as much as its brazen presence: the sense of lives lived, dreams realized and evils executed with an intensity so shocking that they rent the air and shook its fabric. […] Yesterday echoes along today's streets and the ideas conjured up by Berlin's dreamers and dictators seen as solid as its bricks and mortar. The hypnotic and volatile city comes alive in the mind. (p. 2)
In Berlin, the past and the present, entangled by trauma and healing, are visible. Berlin doesn't hide its wounds. You have to go through them. They are in the counterpoint of the city.
Researching the early twentieth century, I was caught by the large amount of material made in Berlin by the intellectual, artistic, medical, and political circles that flourished in the city until the National Socialists and the Second World War destroyed it. It felt to me as if the city itself directed me to ever more sources, traces, and places I needed to explore. Berlin wrote itself into my narrative. I came upon Renée Sintenis, a queer and contrapuntal artist, sculptor, and friend of Rainer-Maria Rilke and Joachim Ringelnatz. Sintenis was the most photographed woman of the Weimar Republic (biography by Silke Kettelhake). Her sculpture, "Young Bear" (1932), became the model for the Berlin Film Festival's Golden Bear, the first-prize award. It is her bear, I found out, that I have been bowing to all these years. Now I bow to her, too. And I acknowledge that Berlin has a place in my writing.
The agency of place has already found its way into anthropological scholarship. Thanks to Tim Ingold, Christopher Tilley, Barbara Bender, and Dan Smyer Yü, we know a lot about "mindscapes," "placiality," and the importance of being in a particular place. Others (e.g., Peik Ingman et al.) have noted that it is the relationality of people and objects—the networks that humans and the more-than-human world are part of—that generates agency. Knowledge is situated in streets, places, and their pasts, as well as in the stuff that crosses our paths—it all has a message for us.
Despite these insights from anthropological research, the agency of place has not yet found sufficient recognition in politics and public debate. But locations matter. By choosing a certain place for political talks, we are inviting the place to sit at the table.
If a summit on environmental policies is held near a site experiencing rapid degradation as a result of climate change, the place's "voice" and wounds may become part of the conversation and influence the results. The United Nations Earth Summit, for instance, was held in Stockholm, Nairobi, Rio de Janeiro, and Johannesburg. Only Rio de Janeiro is among the centers of visible climate change. It would be interesting to find out from a placiality perspective whether being in Rio influenced the summit's analysis and proposals, compared to those that came out of Stockholm or Nairobi. And when it comes to the 2022 Summit, should we hold it in Mumbai (India), Key West (Florida/USA), on the Yamal Peninsula (Russia), or in a deforested stretch in the Amazon?
Perhaps peace and reconciliation talks should take place near the site of the atrocities they seek to address. Sometimes they do (as in South Africa, Northern Ireland, or Rwanda). What even these talks did not do, however, is give explicit recognition to the presence of the place. But that's exactly what we need: political negotiations should include formal—and maybe even ritualized—acknowledgment of the right of the place to be there and to let its memory and history become a visible part of the network of human and more-than-human relations.
#
Kocku von Stuckrad is Professor of Religious Studies at the University of Groningen (Netherlands), with a focus on the cultural history of religion, science, and philosophy in Europe. His forthcoming book is A Cultural History of the Soul in the Twentieth Century. He is one of the co-founders and co-directors of Counterpoint: Navigating Knowledge.
---
Counterpoint blog posts may be reprinted with the following acknowledgement: "This article was published by Counterpoint: Navigating Knowledge (https://www.counterpointknowledge.org/berlins-contrapuntal-agency-how-where-we-live-changes-what-we-know/) on 15 August 2018."The views and opinions expressed on this website, in its publications, and in comments made in response to the site and publications are those of the author(s) and do not necessarily reflect the views and opinions of Counterpoint: Navigating Knowledge, its founders, its staff, or any agent or institution affiliated with it, nor those of the institution(s) with which the author is affiliated. Counterpoint exists to promote vigorous debate within and across knowledge systems and therefore publishes a wide variety of views and opinions in the interests of open conversation and dialogue.